Past Projects
Off-Grid.Net
I have recently joined the team at Off-Grid.Net in a
business development role, looking to help increase web audience from 70,000 to 100,000+ per month over the next quarter. Also developing new commercial lines for the website and business behind it, which focuses on the 'Off Grid' market across the world. The website boasts an audience mix that is heavily American-based, with an additional large number of UK subscribers and a smaller number across Europe.
The aim is to be the leading source of 'Off Grid' information in the UK and beyond.
---
Vale Das Lobas (meaning Valley of the She-Wolves) is a remarkable rural regeneration and peace project in the heart of Portugal. VdL was set up in 2009 as a 100 hectare community venture that includes affordable eco-housing, permaculture and forest gardening, campsite, restaurant, biodiversity centre and organic chestnut farm.
The centerpiece of the community is the amazing Seminario, which is complemented by a historic chapel, and which is being transformed into a conference/retreat/medicine centre and spa hotel. The whole of VdL is situated on the site of ancient ruins with an incredible spiritual history. Various plots have been sold and are for sale, with planning permissions for eco-homes and other structures.
I am working as a Consultant Partner on this project, covering the ongoing land and property development; funding and finance and an events programme. My company, Another World Productions Ltd, is in the process of buying Dolmens Farm to establish it as a co-operatively owned shared events and activities site.
For more details on Vale Das Lobas, please visit their website:
---
Exeter Community Energy – 2015
Exeter Community Energy are a well established energy company based in Exeter in Devon. ECOE, as they are known, are about to launch their first Community Share Offer for a large portfolio of roofs covering all manner of community and County Council owned buildings. They have growing support in the City and Council and an experienced team of Directors and Supporters. I provided Marketing and Community Engagement Consultancy for their Share Offer, successfully raising £390,000 in November 2015.
Avalon Community Energy Cooperative (ACE) – 2015
Beginning January 2015 on a short-term contract, I worked as Community Engagement Project Officer with this local energy cooperative. My role was to design and deliver a Community Engagement Strategy and Action Plan focussed on increasing membership of the cooperative; developing the online presence and social network reach; evidence gathering and event organising.
I worked on launching the cooperative's Pioneer Share Offer and then a second share offer in November 2015 as a bespoke piece of work. Over £175,000 was raised in this period.
ACE are looking to install community-supported solar arrays on local industrial buildings, as well as build a renewable energy park and, in time, a greenfield solar site. All are funded by Community Share offers, as has been done successfully in many other places across the UK.
http://avaloncommunityenergycoop.co.uk/
---
Thoulstone Park / Thoulstone Sustainable Event Company 2013 – 2014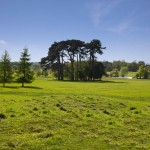 Set-up Thoulstone Sustainable Event Company to manage Thoulstone Park, an 150 acre derelict golf course in Wiltshire. Successfully applied for planning permission for, and set up, a 44 structure yurt campsite with woodland spa, luxury compost loos and events infrastructure. I managed a 20 week summer programme including corporate events, weddings, retreats, festivals, private parties and education camps, as well as glamping weekends. Established Thoulstone Park as the 'Go To' venue for eco-orientated events in Wiltshire.
Corporate Clients included Hootsuite, BBC Natural History Department, Wowcher
---
Sunrise Celebration / Sunrise: Another World Festival 2006 – 2013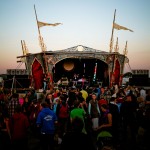 Co-founded the Sunrise Celebration Festivals in 2006 which ran for 8 years up until 2013. The brand was then passed on to new hands. Sunrise was a genre-defining eco-festival which set many standards now being adopted widely within the festival industry, including being the first large festival to provide 100% composting toilets.
I oversaw the majority of the production of the festivals from 2008, taking on the role of Managing Director. Working with co-directors, I helped establish the creative direction of the events whilst specialising in areas including Premises Licensing, Event Operations and Community Liaison.
Sunrise took place annually in May/June, first near Yeovil, Somerset; then for 4 years in Bruton, Somerset; and finally at Thoulstone Park, Wiltshire.
Awards won by the festival included:
Winner 2006 Shelter Award for Social Responsibility / 2009-2013 'A Greener Festival' Outstanding Award / 2011 & 2012 Green Parent Magazine Best Green Festival / 2011 The Guardian & Observer Ethical Travel Award
---
Off-Grid Festival 2009-2014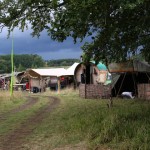 Originally set-up as a smaller, more community-orientated offshoot of the main Sunrise Festival. Off-Grid was an attempt to revive the experimental nature of Sunrise at a time that the larger event was struggling under the weight of the licensing and financial requirements it carried. Over the years, Off-Grid became my real passion, bringing together a brilliant collective of changemakers on an annual basis in an event that was part networking camp, part conference and part festival. It was – and is – a confluence of great minds in the eco/alternative/grassroots scene.
Attracting between 500 and 1000 attendees each year, Off-Grid explored ideas in settings both formal and spontaneous. The hubs of the event were the Off-Grid College, a 13 module course in Off-Grid and Low-Impact living, and the multi-day conferences that ranged through topics including Future Farming, Low-Impact Planning, Land Law, Big Ideas (to Change the World) and One Planet Living. These two elements complemented each other, providing practical, DIY solutions on the one hand combined with forward-thinking theory on the other.
The 2014 event was the first held exclusive to the main Sunrise Festival and occurred at Thoulstone Park, Wiltshire. It was produced in collaboration with the Building Man Cooperative.
---
The Natural Communities Foundation
I co-founded this charity in 2010, working alongside leading London-based charity lawyers, Bates Wells Braithwaite. The aim was to establish a charity to channel the profits from the Sunrise Celebration (and spin-off events) into. After overseeing the set-up process – including the forging of charitable aims, the memorandum and articles and our application to the charities commission – I ran the charity on behalf of the Trustees for the first 24 months of its life, acting as its Chief Executive. In 2012, I served for a period of one year as a Trustee of the charity.
NCFs purpose is to support projects that reflect the aims of the Sunrise Celebration Festivals – primarily the environment/sustainability; holistic well-being and the arts. In my time with the charity, funds were raised to support two tree-planting projects on publicly accessible land; the planting of a Community Tree Grove and the building of an ornate multi-faith travelling Temple. The charity continues to exist to this day.
http://www.sunrisecelebration.com/about/natural-communities-foundation
---
Transition Audit
Between 2009 & 10 I was commissioned by Somerset County Council, on behalf of Transition Somerset's Local Government Liaison Group, to produce a landmark 'Transition Audit'. At the time, Somerset Council were going through the process of becoming the first Transition Authority, a move backed unanimously by the full council chamber and being taken forward under the progressive leadership at the time. The Audit took the best part of 18 months to research, write and find approval. Sadly, by that point, the Liberal Democrat administration had been replaced by a Conservative one which was, of course, far less progressive and with whom the language changed to one of austerity and cuts. The Transition Status application was quickly lost amidst the changes.
The Audit itself was a 120 page report covering 12 subject areas and exploring the current drivers and changes required across multiple SCC departments in order to achieve Transition status. Possible plans discussed at the time included converting parts of the extensive County Farms estate into low-energy/oil Transition farms and developing the 'Waterlinks' project to renew and rejuvenate Somerset's river and canal networks as places of leisure, commerce and conservation. It was an exciting (if brief) time of potential change which I was glad to be part of.